Helen is a Georgian pianist. She started playing the piano at the age of 7.
Having graduated from Tbilisi State Conservatoire she continued her studies for masters at the Conservatoire Royal de Bruxelles.
EXPERIENCE
Since childhood, she has been actively performing on stage.
She has held a number of solo recitals in Georgia, Belgium and has participated in different projects, concerts and masterclasses in Georgia, Belgium and Germany.
Helen is a laureate of several international piano competitions and has more than 5 years of teaching experience.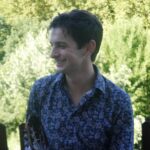 Antoine Miralles Prev post
Olga Artemenko Next post