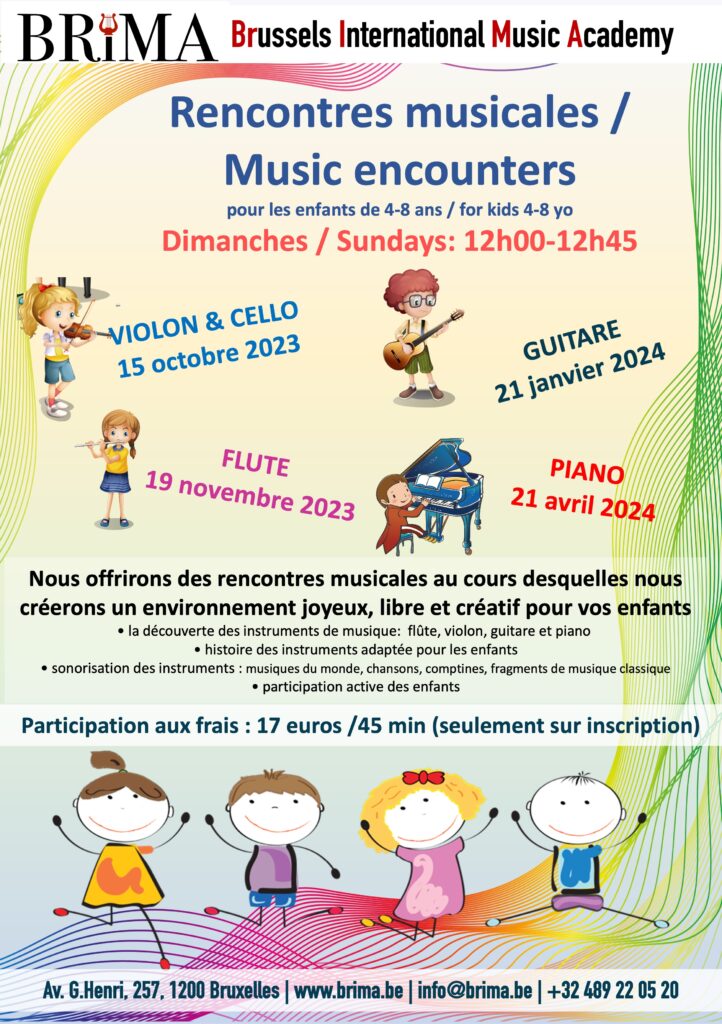 Music Encounters 2023/2024 – Violin & Cello
Announcement for Courses
(FR)
Rencontres musicales : violon et violoncelle !
Votre enfant a envie de découvrir le monde de la musique à son rythme, de façon ludique et entouré d'autres petits camarades ? Alors n'attendez plus pour l'inscrire à l'une de nos rencontres musicales ! Ce 15 octobre 2023, venez vous familiariser avec le violon et le violoncelle : histoire ludique de cet instrument, découverte de ses sonorités et de ses secrets, chansons et comptines… Un atelier plein de surprises, où votre enfant ne risque pas de s'ennuyer, ainsi qu'une très bonne occasion de l'initier progressivement au monde de la musique et d'en faire un petit musicien en herbe.
Où ?
Brussels International Music Academy, Avenue Georges Henri 257, 1200 Bruxelles
Quand ?
Le dimanche 15 octobre 2023 de 12h à 12h45 (45min)
Pour qui ?
Les enfants âgés de 4 à 8 ans
Combien ?
17 euros seulement.
Vous pouvez vous inscrire en utilisant ce lien :
On vous attend avec impatience !
(NL)
Muzikale ontmoetingen: Viool & Cello!
Willen je kinderen de wereld van muziek ontdekken op hun eigen tempo, op een leuke manier en omringd door veel vriendjes en vriendinnetjes? Wacht dan niet langer en schrijf je kinderen in voor een van onze muzikale ontmoetingen! Kom op 15 oktober 2023 de viool en cello leren kennen: een speelse geschiedenis van deze instrumenten, ontdekking van hun klanken en geheimen, liedjes… Een workshop vol verrassingen, en een geweldige kans om de kinderen geleidelijk te introduceren in de wereld van muziek en van hen een toekomstige kleine muzikant te maken.
Waar is de workshop?
Internationale Muziekacademie van Brussel, Henri Georgeslaan 257, 1200 Brussel
Wanneer ?
Zondag 15 Oktober 2023 van 12:00 tot 12:45 (45 min)
Voor wie?
Kinderen van 4 tot 8 jaar
Hoeveel kost het ?
17 euro.
Je kunt je inschrijven via deze link:
We kijken uit naar je komst!
(EN)
Musical encounters: Violin & Cello!
Would your children like to discover the world of music at their own pace, in a fun way and surrounded by many friends? Then, don't wait any longer to register your children for one of our musical encounters programmes! On October 15, 2023, come and learn about the violin and cello: a playful history of these instruments, discovery of their sounds and secrets, songs… A workshop full of surprises, and a great opportunity to introduce the children gradually to the world of music and make them a future little musician.
Where is it?
Brussels International Music Academy, Avenue Georges Henri 257, 1200 Brussels
When ?
Sunday, October 15, 2023 from 12:00 to 12:45 (45 mins)
Who is it for?
Children aged 4 to 8 years old
How much ?
17 euros only.
You can register using this link:
We're looking forward to see you!