Studies:
Conservatory of Roubaix: full classical cursus in the class of Vladimir Soultanov. Graduated from the Diplôme National d'Orientation Professionnelle.
Conservatory of Brussels in the class of Mikhail Faerman from 2018 to 2020.
Currently studies with the international pianist Vladimir Soultanov.
Professional Experience:
Experience as a piano teacher since 2016 for students of various ages and profiles.
Internships with Vladimir Soultanov in Ardeche (France) and concerts in summer 2015, 2016 and 2017.
Languages :
French, English, Portuguese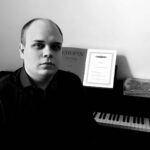 Boro Tosic Prev post
Luana Ramos Next post