EDUCATION
MASTER OF MUSIC IN PIANO – Conservatoire royal de Bruxelles
MASTER OF MUSIC IN PIANO – Conservatorio "U. Giordano" Foggia, sez. staccata di Rodi Garganico
PRIVATE ANNUAL COURSE WITH ANDREW WRIGHT
BACHELOR OF MUSIC IN PIANO – Conservatorio "U. Giordano" Foggia, sez staccata di Rodi Garganico.
EXPERIENCE
Italy
CONCERT PIANIST
Playing in solo recitals in various cities
Belgium
PIANIST IN CHAMBER MUSIC FORMATION
I am part of a trio with violin and cello and of a duo with cello in Brussels.
I earned a lot of experience working with the most various kind of chamber music's formation in Italy (singers, flute, violin, cello, clarinet etc…)
Italy
MUSIC TEACHER
Working as a private teacher both in Italy and Belgium. I worked some years in local private schools as Piano teacher.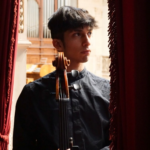 Sebastian Rodriguez Prev post